29/10/16 – connecting to the world
Travelling in the UK, not on vacation but preparing for other projects. The UK is thinking about who it is in the world. Here in Trafalgar Square a homeless man is making his own connections to the wider world, drawing flags with chalk from memory, and passers by put coins on their flag. As he quietly works he gets lots of positive comments and in his way finds a purpose, it is a sort of meditation. Everybody is smiling without thinking about political conflicts and differences whether these are called money, colour, or religion. The kids at the corner are just enjoying the beautiful colours of the flags and the man's creativity.This is London, a multicultural melting pot of creativity which I hope will not change. Flags seen in this context are individual pieces of art, combining here into a new piece of art; colours and shapes repeat and create a balance. Nobody walks on this carpet and probably will not until it is washed away by rain, which is not far away.
---
31/10/16 – The old tree
The old tree in the autumn of its life
The leaves on its head are thinning
yet its body is still strong
the strongest it has even been.
As it has slowly aged
how many ordinary lives has it spanned?
A living timeline from the ancestors.
It may still be there
after my own winter has passed.
Like it I must trust my core,
even as the edges fail
and know that I can hold my ground
and bend with the wind, and remember
"This too shall pass"
Michael Eales
---
1/11/16 – A playful day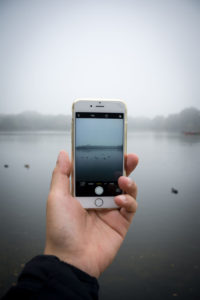 A pinch and a punch for the first of the month they say in England once a new month get started. Here we are again, yesterday was a poetic shooting in nature, yesterday in the morning was a foggy day and then the weather changed to a clear sunny day.. I lost the opportunity to shoot something more dramatic than usual but today once I woke up and I saw that the fog appeared again I grabbed my camera and went to Petersfield heath. It is amazing that there is so much green less than an hour outside London, It is really impressive. I took several nice pictures that you are going to see in the next days but for a start I wanted to post something more playful.
---

2/11/16 – We are the happiness, We are the thoughts
People are wanderers, searching for the meaning of life and the key of happiness. Sometimes our minds are like foggy days… There is thick fog around our thoughts not letting us think clearly. The sun… the sun is the remedy, it beats the fog, our foggy thoughts can be blown away by bright thoughts, they are our sun. We are the happiness, we are the thoughts.
---
3/11/16 – Breakwater at Shanklin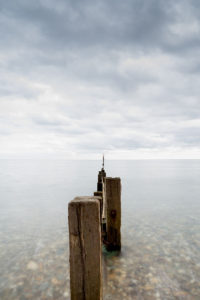 The Isle of Wight, remote and empty
on this cold and foggy November day.
The sea is still, the beach deserted
as I stand and watch the water
lapping the breakwater.
In the autumn's chilling air
I find a space inside and I am calm.
Michael Eales
---
4/11/16 – the off track project continues
Still in the Uk in a wonderful place called the Isle of Wight. Once I arrived at the port I saw the beautiful long pier which can be used by passers by and the train. So, I used the fifty years old train, whose wagons used to be in the metro of London. It was wonderful indeed, but to tell you the truth I was scared sometimes because there was a lot of shaking which of course for the people of the island is something normal. The next day I decided to go to The Needles, on the other side of the island. The transportation was very easy and it took me almost two hours to arrive at my destination.  It was raining cat and dogs and I knew already that I would be totally wet but it didn't matter at all, when you see this amazing view guys too you will not care if the weather conditions were good or not. Walking around the area I bumped into a couple I didn't know in person but the previous night were drinking beers in the same pub as me, we had a little bit of chat because they remembered me too, we smiled to each other and both our trips continued. I was heading to the edge of the cliff to photograph those white big stones, The Needles as they are called. The rain stopped and suddenly fog appeared, a thick fog. I was so excited I was thinking that nature was playing with me or maybe it was changing its clothes and it was ready to be photographed. I was struggling to take a good photo with such thick fog to tell you the truth but in the end the fog disappeared and here we are. 🙂
---
5/11/16 – the clouds tell their stories
Yesterday the clouds were just outstanding, the sun beams were playing games again with them, and there was a mix of colours. It really looked like a painting, and if you think like a painter everything is "light and shadow" once you understand this simple idea you can notice more things and easier than before, even in your daily life, before you go to work or for a coffee, it really doesn't matter when.. just notice.. notice and live that specific moment.
---
6/11/16 – The edge of the world
As the fog rolls in we are at the edge between clarity and the unknown. As the white blanket envelopes all before it, we assume that what was once there is simply hidden but maybe it has disappeared completely. Our minds work the same, as we lose clarity we often believe there is nothing firm to hold on to, when actually things get hidden by our foggy thoughts. Today I am tired and I can't think anything, I hope my fog will clear tomorrow.
---
9/11/16 – Remembering Amy Winehouse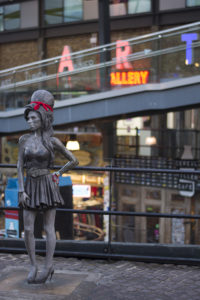 I started my day together with the writer of the project, Michael and we both wanted to go to Camden Town which brought up memories of Amy Winehouse, a true princess of Camden. We visited her house in Camden Square where the trees outside have been made into a shrine. Like many others I wrote my letter to her and stuck it to the tree. I found myself in tears because she was just herself and didn't care about what others thought. She had balls and I admired her for that and she wasn't the classic celebrity who wanted publicity. She just wanted to sing… After we went to the Stables Market where they have put her statue. It is so small and vulnerable, but in someways she is at home in her spot.
---
6/11/16 Throwback, The Off Track project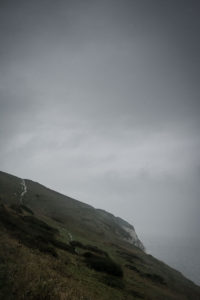 UK .. Such a wonderful country with its changeable weather, I am sure a lot of people fall in love for that reason. Clouds, rainy days, dramatic landscapes, lush. Photographers adore this country, and this is one of the reasons. The photo I uploaded today represents a small path.. an off track path actually, and it gives me the opportunity to tell you few words about the "The off track project". We want to travel in places which are not touristic, that's why we decided to give that title.  We want people live our experiences through photographs, writing and videos. We are committed to responsible travel, being mindful of our impact on the local environment and culture, and treating people with fairness and respect. Our next travels are in Scotland and then in Thailand, We try to gain something from all cultures and people we meet up with. It is an experience of life for us and we love it.
---
13/11/16 – mooching around Hyde park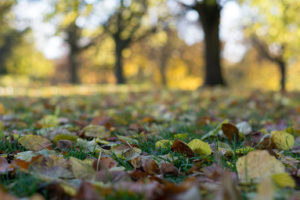 It's so nice when you are mooching around, having all of these wonderful autumn colours around you and passers by all over the place, especially in Hyde Park on a Sunday. London is a busy metropolis, people are everywhere, in each corner, this city is not plain at all, it's very colourful, I like its business and its people. You have always something to do, whether it's called art, walkings, or pubs 🍻😄  (Note to self – less pubs!).
---
 Isle of Wight throwback
So dark and isolated, nobody is outside, cold and clouds are my company today again. How do people living further north in Europe cope with living half a year in darkness. Yet there is also a stuck beauty through the drama between the clouds, the land and the see which I love. Only a few weeks left for the new project "Thailand off track", the ticket are bought already and new experiences are waiting for me and the team.
---
19/11/16- Storm Angus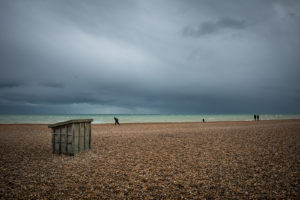 Back to one of my favourite places in England.. Brighton. I have spent few months of my life in Brighton, I made so many friends from all over the world, Brazil, Turkey, Cuba, Germany and Russia.. You will probably think this guy made so many foreign friends in a UK place, so yes.. Brighton is one of the most friendly places in the world! You can meet people from different countries especially in the summer. There is no prejudice at anything, you can feel the equality and the positive spirit of the town. Since I arrived in the town my mood changed to the best, remembering pubs that I was having drinks with friends, and the famous Brighton Pier was still an amazing tourist icon full of people and of course the yummy smell of fried cod which there was all over the place. I was walking along the coast and observing the place once more searching my spot for my new photo, even if there was wind and a slight drizzling people were walking near the coast, like walking shadows coming out of the sea, hoods on and probably were thinking personal things… that's my new capture I said to myself and once I clicked a storm begun and it has its name "Storm Angus"
---
25/11/16 – Athens of the north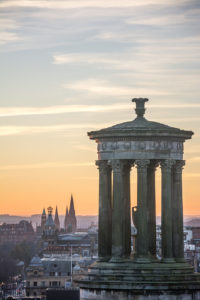 Here I am in Athens, but this is Edinburgh the Athens of the north. The city is marvellous and full of gothic and Greek architecture, one moment I was feeling like I was in "Panepistimiou Street" in Athens, and the next one on the set of the Game of Thrones. It is of course very cold exactly the opposite of Greece, ice on the ground, frozen leaves and slippery roads but the winter sun and the Christmas lights give it a warm glow. We have toured the city on foot avoiding the groups who take the fifteen pound "hop-on hop-off bus". You can do everything on foot if you don't mind climbing some hills. But I think that the bus cannot go into the narrow passages which are beautiful. We ended our day with an exquisite sunset which for a moment gave the city warmth  while we were freezing.
---
26/11/16 – On a trail of Harry Potter
Today we went to the Elephant House cafe in Edinburgh old town where J.K.Rowling wrote the first Harry Potter books. The surrounding area is very evocative of magic and mystery – castle, gothic buildings, lots of small dark alleys and even on show in the High Street, owls. This owl was huge and scary, but the handler persuaded me to stroke it. The cafe seems to be off the track of the usual Harry Potter fans, just full of people enjoying their tea and cake, and maybe some looking for inspiration for a million dollar bestseller.
---
 27/11/16 – Following the sun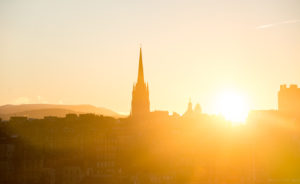 There is something hopeful about winter sun, especially when it gets dark so early and the cold is not far away. This is a view from the top of Calton Hill in Edinburgh where we went to find the copy of the Parthenon you can see from all over the city. We really enjoyed our taster of Scotland, and in the 4 days we managed to experience the best of Edinburgh, plus a day in Glasgow and another in St. Andrews, both by train. When I have a bigger budget it would be great to hire a car and visit the highlands and islands. Meanwhile we will follow the sun to Thailand in only a weeks time.
---
28/11/16 – They all share a curiosity
I love the fact that every traveller has a different goal, different likes and will have different stories to tell, but they all share a curiosity for the place they are in, courage and an energy to get out there and do something and not just think about it. The philosopher Martin Buber said "all journeys have  secret destinations of which the traveller is unaware". Sometimes this is finding something outside yourself, sometimes inside yourself. I wonder what secret destination this pair are about to discover. For whatever it is they look well prepared.
---
28/11/16 – On the train
On the train again, heading to another off track destination, it's called Leuchar. I'm listening music and enjoying the beautiful rough landscapes of Scotland, geese and other varieties of birds are flying in the air and I thought they are  travellers too but travellers without boundaries, passports, check-ins, and being asked where you are coming from and who you are"… Freedom for them that's the proper word. I really like Scotland there is something magical in this place, I felt that from the first day I arrived. On my way to my next destination I saw many beautiful landscapes like the one in the photo.
---
28/11/16 – St Andrews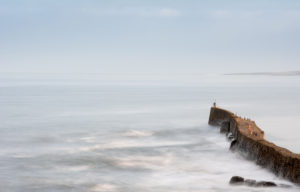 And here we are, at the town where golf first started! St Andrews. The place is extremely beautiful, everywhere there are gothic elements which help you travel to another era. We are out of the busy town of Edinburgh, there are no big malls, no crowds of people bothering you peace of your mind, everything is calm here and everything goes at a normal pace. We went to the old cemetery to admire the ruined cathedral, you will think these guys travel and go wandering around tombs waiting to take a picture of a zombie, no it is not like that but to tell you the truth the scenery reminded us of a zombie/vampire scene (haha). There wasn't anybody at this place except me and Michael and suddenly two others appeared… they were from my country too, Greece,  off track travellers too like us. After a short conversation everybody followed their path. The place has a big history so if you are interested in it you can do your research on the Internet, it is worth it.
---
29/11/16 – Blue
Sometimes a photograph gives the impression of a painting, certainly with light and colours of the Scottish coast. The soft Scottish blue sky created something soothing for our eyes, it gave us joy in that frozen moment.
---
30/11/16 – A quiet day
The last photo from St. Andrews. The sun broke out of the clouds just before the sun went down casting a golden glow over the town. Most of the buildings in view are connected to the University – a quiet place to study, especially in winter. It is in quiet places like this that murder mysteries seem to take place, but today we discovered no body washed up on the beach.
---