Amsterdam, the city which never sleeps
11/10/2016 – Bicycling shadow
I have been several times in Amsterdam, it is a place that i have in my heart for my reasons, that's why i keep coming back again and again. Probably the first thought in your mind might be that i visit the famous coffee shops and the prostitutes but this city has much better places to see, to spend your energy in something different from the usual. The journey started yesterday for me and this is only the beginning, I will be uploading photos and their stories all these coming days so I can keep you informed. In contrast to the hot weather of Greece, I instantly felt the difference of 9 degree celsius today, while i was having a hot coffee at the centre, at the beginning of the article you probably saw the b&w photo with the "bicycling shadow" that's how i entitled it 🙂 I was observing the people, their happy faces, and of course the cyclists who were coming and leaving at the same time. A few of them were running, others not, but in my mind they were like passing shadows because you could see them only for few seconds. That's what i wanted for my first photo of the day, i said to myself, and that's the click. have a nice evening all guys.
---
11/10/16 – Stories behind the words
Second day in Amsterdam, there wasn't any plan, I just woke up, I had my breakfast and out of the blue I just grabbed my backpack and mycamera and I left the house, That's how my day got started. I had been mooching around for a long time, from the outskirts of the city to the centre, and I noticed that the time was fleeting by so quickly, it was already 13:30 and at that time i was standing outside theRijksmuseum, thinking to take a look inside or not, and then the music started. A wonderful street band started playing music and it was so good that i totally forgot about visiting themuseum which in the end i didn't. While i was passing through a smallpassage into the museum I could see the famous IAmsterdam sculpture, I am sure that you have seen that on internet on maybe you have visited. There were so many people there, taking photos of each other, other street artists were around and in general there were happy vibes around this area. I was standing at the opposite side of the word "IAmsterdam" and I was looking at  "probably a couple, or just friends", one of them was sitting on the letter "e" and the other on the letter "t"  (as you can see in the photo) talking to each other and living their moment. My constant thought was that i was a part of their story too, but i was a story behind the word, a story from the opposite side of the word, a hidden story than they will never know, it is a bit strange I know but that's the truth.
---
13/10/16 – The lonely house
Third day in the Netherlands and today I decided to see something else and notto stay in Amsterdam. My small trip started from Amsterdam central station, and my two new destinations were Delft and Leiden. The photograph I posted was taken in Delft, the lonely house as I entitled it. Delft was an exciting small city with lots of canals and cyclists. For people who don't know many about Delft, is the town where the famous painter Johannes Vermeer was born. I was excited because he is one of the painters I admire. I visited the spots that Vermeer was standing and painting those days, and I was totally thrilled, I was checking a photo I downloaded on my phone and simultaneously I was checking the difference between "then" and "today". The place then did not seem to be as  much populated as it is now, i also noticed on the painting that it used to be peaceful and somehow lonely, like the house I photographed today. This old semi-crooked house was the only house at this place that was totally remote from people and other houses, but i am sure that when Vermeer was stillalive it wasn't alone because it was one of the spots that Johannes used to paint.
---
Throwback Tuesday  11/10/16
It's Friday 14th already, and today i will not follow my one simple rule for this blog "uploading a photo of each day" but is there any need to have the "have to" in my mind? No… So today i will share a photo of my second day in Amsterdam for the fact that i like music. Music…. such a wonderful word and such an outstanding gift that humans have worked out, knowing how to play an instrument is charismatic, you express your feelings and I believe that those feelings are coming to the surface whenever you listen to music. People combine songs with instant moments of their lives, some of them are happy ones and sometimes some others are bad ones, this is how it works for me too.  Many times have i combined my photographic excursions with music, it is my meditation, being away from everything and living in my own world which i know better than everyone. That's what I was doing that day, listening to the music that this street artist was playing for us, the people, his people.. His best friends and companionis the violin, which follows him wherever he goes.
---
Saturday  15/10/16 – Photographer of the past meets photographer of the future
Last night was nice, having a couple of drinks with beloved friends. The town was crowded again, even if it was raining.  Sunday morning today; it's cold outside and there is a bit of drizzle too, but that doesn't mean I'll stay at home.  Already at the centre without realising it, because I was daydreaming about my things, observing the town once again in search of finding something new.  12:22 and I was around the area where Anna Frank grew up and thinking about her past and her story. Suddenly I saw the long queue outside her house.  The famous diary was written inside that small house. I was thoughtful again while I was observing it, thinking of that girl, and how famous she became after her death.. So sad indeed, but we are not here to talk about sad stories so I continued my walk around her house when I saw this photographer you saw in the photo, this old school style photographer. My instant thought was "photographer of the past meets the photographer of the future" it's amazing that I can just put my camera in my backpack and travel with it so easily, but for him it's not the same, but he prefers to shoot in that way. Probably he has frozen time in his unique way.  Looking at him with a smile I said bravo fella.
---
Sunday  16/10/16 – Spreading love
Sunny day today, but still cold.. preparing myself for going out for new adventures or maybe I could first do with a cup of hot coffee before my day gets started. The days seems normal and quiet around the area I am staying in, there are no kids around nor people. Heading to the tram station I can only see the "Blue and White" tram (if you go to Amsterdam you will see plenty of them for sure) waiting for people to get on, but it seems I am the only one that is going to use it. There are ducks in the canals as always which are diving into the water in search of finding food or maybe they are just enjoying theirselves. As I am looking at the main street which goes directly to Dam Square I hear a voice "Spread love! Spread love! be together, No Hate! just love each other! The guy who is in the photo is named Roy, he lives in Amsterdam that's all I know, he doesn't want to tell me more about his life. He stands always outside the central station, trying to spread love to people in his way. I don't know what people believe about him, and I sure he doesn't care at all about what people think, at least I admire him for doing what he loves.. "Spreading love"
---
Monday 17/10/16 – Crooked, leaning houses
Hello to everyone one more time, yeap I am still in Amsterdam, what can i do? It is such a wonderful city I can't leave from it just like that.  I first fell in love with Amsterdam when I saw those crazy buildings, first of all I felt like i lived in a fairy tale, and secondly I seriously thoughtsometimes I deeply think… did Dutch people want to build crooked houses on purpose or did it just happen with the passage of time? Some of them are leaning forward, they tilt to one side and some other look like they might fall over you. With a little bit of a research, and asking the locals, I found the answer and it is interesting indeed. There are plenty of explanations in guides and on the internet for that matter, but the experts are not all that certain why the Amsterdam houses look slanted and skewed.  There are many theories and here are the most likely. 1.Renovating one of the houses in a row 2.The quality of the wooden poles 3.Rotting of the wooden poles 4.Adding extra floors on top I prefer not to go into more detail, whatever the main reason for this Amsterdam has been transformed into one of the most beautiful European cities.
---
18/10/16 – Nothing can stop me
Come rain or snow, nothing can keep us from our dreams. Age is not an obstacle and it's never too later for anything. I had that feeling with this adorable woman in the photo. It was so obvious that she was enjoying the city, the canals and the crowd, even if it was raining cat and dogs. I surely can call her a 'backpacker traveller' at heart, she deserves the title 🙂
---
19/10/16 – Audience in a row
We are spectators of other people's selves not ours, we are excited by others but we never admit it.. Strong personalities, the ego wins.. The eyes.. the eyes never lie.  Eyes are looking at the free spirit, beating the gravity and its ego, enjoying the rhythm of the music.. strength and power are swinging into the air..  glowering eyes continue the daze. The dancer won the gravity and the audience's ego, they are admiring him having forgotten about it, having forgotten about mine. Amsterdam, Street art 2016
---
20/10/16 – Bicycles part of the city
Whenever you go to Amsterdam you will be mixed up with bicycles and people, and I believe that's one of the beauties of the city. However others get frustrated because cyclists have ended up being more than pedestrians. But… when you talk about Amsterdam this is one of the thoughts that comes up in your mind… or maybe more 🙂 In my opinion bicycles in Amsterdam are an important part of the city, it's a more ecological way of living, exercising yourself, and sometimes a bit romantic as well. The Dutch people support their rule which says no car is allowed in the centre, only bicycles, motorbikes, and the tiny electric cars, and I like the whole idea. As far as I have noticed, Dutch are not afraid of the weather at all, and it cannot stop them for using their bicycles. They are in love with them for sure! 😀
---
21/10/16 – Holy fuck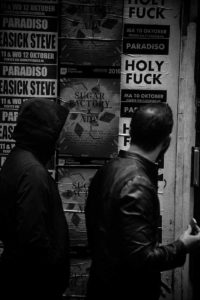 This poster offers dream escapes from a mundane life. Dancing in paradise, a holy fuck (the Paradiso club is in a converted church) and all things sweet and good in Sugar Factory. All attractive to these guys here,   already transported in their minds, their imaginations already in paradise.
---
22/10/16 – multiculturalism
Still in The Netherlands but as we know nothing in this life lasts forever, and in my opinion, it is for a good reason otherwise we would be bored of our lives. It's always wonderful to start something new, have new targets, and get new experiences.  The trip is about to finish, and a new destination is waiting for me. But today I want to talk about my "Indian experience" instead of the next country I'm going to visit.  Lucky me that there was a famous festival in the heart of Amstelveen, its name?  "Diwali" – it stands for "Victory of light over darkness, good over evil and hope over despair".  Once I arrived at the place I immediately felt like I was living in another civilization, people dressed colourfuly in beautiful costumes, traditional food being served all over the place and my nose  caught up in the smells of the different herbs used in Indian cooking. You could feel Indian traditions wherever you were in the festival. Dancers interweaving with bright colourful lights were performing on the stage for us. Multiculturism I thought. In The Netherlands you can find people from all over the world,  one moment  you are in Amsterdam the next you are in India or another country. There is more to Amsterdam than the centre that most know so well.
---
23/10/16 – Good night Amsterdam 
Good bye Amsterdam, I will see you again.